I'm linking up with Amy from Fashion and Beauty Finds for the first Top Three link up! It's a chance to recap your favorite three looks of the month. I decided to pick the following based on which posts had the most pageviews/comments. It's actually fun to look back over the month. I can't believe that in the beginning of January I was in Colorado surrounded by snow! It seems so long ago!
I always love an outfit with my fur vest! It's so comfortable and adds another layer of texture to an outfit!

I don't have enough stripes in my closet because I've had a hard time finding THE perfect striped shirt. I really love this one I found recently at H&M. It even has a zipper detail in the back! Sometimes it's all about the little details.
This was my most popular post by far! I have to admit I love the color combo in this one. I feel like I don't wear a lot of color that much so it was fun to mix all the blue/greens. And look at all that snow! ( I also learned that leather shoes and snow don't mix well! Hey, I'm living in California now, I forgot about snow!)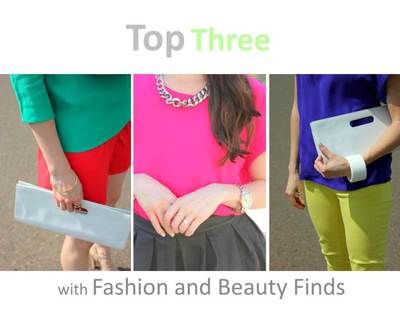 So check out Fashion and Beauty Finds and link up! Top Three will happen at the end of each month.