How to Choose the Perfect Gift for Mother's Day with Anne Klein
This shop has been compensated by Collective Bias, Inc. and its advertiser. All opinions are mine alone. #StyledForSpring #CollectiveBias
This year, Mother's Day is extra special for me because it's the first time I get to celebrate as a Mom! I don't think you can truly understand everything your Mom has done for you until you become a Mom yourself. It's definitely given me more of an appreciation for all the love my Mom has given me over the years. She always there for me and willing to do anything I ask. From being my personal seamstress on call whenever I need clothes hemmed or taken in, to basically planning my whole wedding because I was living out of state at the time, to staying up all night with my newborn baby so I could get some rest…the list goes on.
Sadly, I don't live close to my Mom anymore. She's in Pennsylvania and I live in California right now. That's literally across the country. So it makes it hard to celebrate Mother's Day because I'm usually never able to be with her on the day. This year, however, she'll be visiting me a few weeks before Mother's Day so I'll be able to give her a gift in person a little early! So this year I'm trying to make it extra special by picking out the perfect Mother's Day gift for her.
That's why I decided to choose a watch from Anne Klein. This isn't just a watch, it's a versatile piece of jewelry that can be dressed up or down. I chose the Anne Klein Rose Gold-Tone Bangle Bracelet Watch Set with three mix-and-match bracelets that make layering super easy. It's perfect for a Mom who wants to look stylish without having to put a lot of effort into it. And Anne Klein watches come in chic boxes that make gift giving easy as well.
Keep reading my tips below to find out how I chose this exact watch for my Mom and how you can pick the perfect Mother's Day gift based off of your Mom's style preferences as well!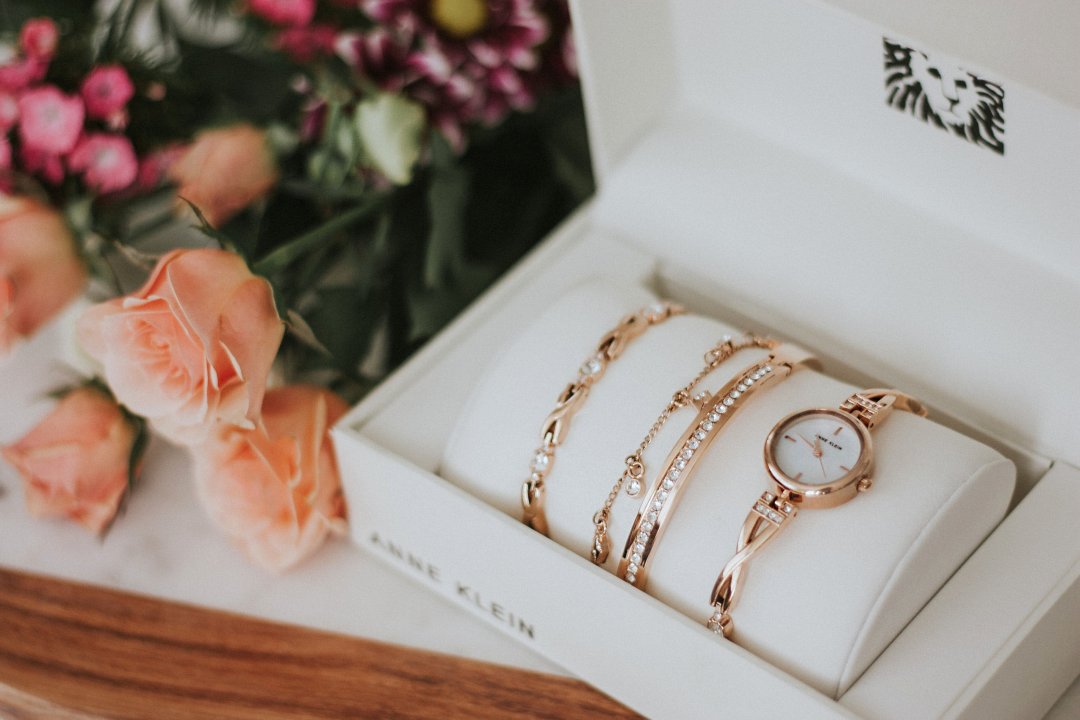 Hover over the above image to shop this exact watch!
How to Choose a Mother's Day Gift Based off of your Mom's Closet
What mom doesn't love jewelry or accessories as a gift? But sometimes, it can be hard to figure out what type of accessories you Mom is into. Especially if you don't see each other on a daily basis. Sometimes, I get the temptation to buy something that I'd like instead of buying something that really fits my Mom's style. These tips might seem simple at first, but by really honing in on your Mom's preferences, you're more likely to pick something that she'd actually love!
1) Raid your Mom's jewelry collection to get an idea of the type of jewelry she prefers. 
And if you don't live near your Mom, just ask her to snap pictures of her closet! That's what I did with my mom! Or you could ask another family member to do it so you don't make your mom suspicious!
When looking through your Mom's jewelry collection, there's a few things to look out for:
Type of metals she prefers (gold, silver, bronze, rose gold, etc.)
Type of jewelry (bracelets, earrings, necklaces, watches, etc.)
Style of jewelry (modern, lots of ornate details, bold, delicate, etc.)
By paying attention to these details you can get a sense of the style that your Mom prefers. For example, my Mom's collection is eclectic and romantic with lots of colorful beads, a variety of metals, and delicate and romantic details. I definitely want to stay away from anything too modern or simplistic.
2) Take a look through her closet to get a sense of the colors she wears.
When looking through your Mom's closet, pay attention to these things:
Colors she prefers (neutrals, colors, warm tones, cool tones, etc.)
Style of tops. Does your Mom gravitate towards basic tees? Feminine Blouses? Work wear? More casual?
My mom isn't afraid of some color but she also has a collection of neutrals. I would say she favors warmer tones over cool tones as well. And the style of tops tends to be casually feminine with floral prints or solid colors.
3) Notice trends and find a piece to "upgrade".
Does your Mom favor necklaces over bracelets? Does she constantly buy one type of item that has to be replaced often because it's not the best quality?
I noticed that my mom buys a lot of cheap bracelet style watches. She always ends up replacing these cheap watches year after year because she doesn't want to spend a lot of money on herself. That's why I decided to take the bracelet watch style that she loves and upgrade it to the Anne Klein Bangle Bracelet Watch. It's exactly the style that she loves, but a higher quality version that will last. The Swarovski crystals and delicate design of the watch and matching bracelets also fits in with the rest of her jewelry collection. And the rose gold tones will pair well with the warm tones and neutrals in her closet.
Luckily, Anne Klein has an extensive collection of watches in a variety of styles with unique features like ceramic bracelets, mesh bracelets, Swarovski crystal details, and mother of pearl and diamond dials, so there's a watch style for every Mom!
It was also easy to pick up this Anne Klein watch for my Mom! All I did was stop by my local Macy's, find my way to the watch aisle, and pick this gorgeous set out of the display case. It literally took a couple minutes to find it and checkout!
OR you can find the perfect Anne Klein watch to fit your Mom's style online at macys.com!
How do you pick the perfect gift for Mother's Day?
SaveSave
SaveSave