Flashback Fashion Fridays Link Up #15 + Grey Booties
When I want to "dress for fall" but it's still a little warm outside, light layers and booties are the key. This jacket is light enough and easily removable if it gets too warm and this sweater has an open back which makes it nice and breezy.
Booties are also a must have going into fall. You can pair them with skirts in warmer weather and long pants in the winter. So when
Naturalizer
asked me to style a piece from their Fall 2015 collection I jumped at the chance to add something cute (and comfortable) to my transitional wardrobe. I loved the mix of suede and leather on these booties and the heel height is perfect. I also love that they have a cushioned footbed which makes super comfortable!
I decided to pair these grey booties with a light grey sweater and blush jacket. The colors seem a little off in these photos but the grey, blush and black color palette really goes great together.
Outfit Details:
Express Open Back Shirt
ILY Couture Necklace
H&M Sunnies
*I received these booties 'courtesy of' in exchange for review but all opinions are my own.
It's Friday and that means it's time for Flashback Fashion Fridays! Here's an outfit from
October 3rd
last year. I actually forgot I had these pants! I really like the mix of the lace with the printed pants. Looks like I need to put this outfit together again sometime soon.
Adri and I would love for you to join us this week and link up your flashback fashions! You can include a link or photo in your post to an outfit from last year, month or even week! It's fun to see how our style choices change over the year.
Guidelines for Link Up:
2) Please link up a blog post and not your blog's homepage.
3) Use the button below to link back to the link up or include a link in your post.
Thanks!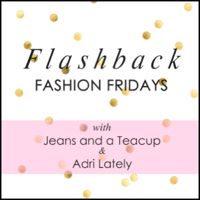 Linking Up:
Rachel the Hat, Fashion Should Be Fun, Fridays Fashions, Forage Fashion, Closet By Christie, A Pocketful of Polka Dots