Flashback Fashion Fridays Link Up
Soo…you might have noticed that I haven't really posted all week. I also haven't posted much on my social media accounts either. I wish I had a good reason why I've been MIA but I don't. I had every intention of starting the new year out with being super organized and inspired to create new content for the blog…but it just didn't happen.
To tell you the truth I'm feeling sad and frustrated. I sad that I'm not happy with where my career is going. I'm frustrated that I can't turn my passion (this blog) into a real job. I recently got mentioned on another bloggers site and that day I got more pageviews than I usually do in an entire month. I'm super grateful for the shoutout but at the same time it made me kind of sad. I feel like I've been working at this thing for awhile and I'm still so far behind the norm. I know every blogger goes through periods of self doubt where they wonder if anyone really cares if they keep posting or not so this is really nothing new.
So what have I been doing since I haven't been a very good blogger? Shopping of course! Nothing makes you feel better like some retail therapy (until you have to pay the bills).
– My cold weather wardrobe is not very good so I've been trying to stock up on some
neutral sweaters
(in cream and grey).
– This
fringe cardigan
is also on major sale (60% off!) and will keep me nice and cozy.

Now onto Flashback Fashion Fridays! I wasn't able to motivate myself to get new outfit photos. But here's a flashback to last January! I actually forgot about these pants! I need to go hunt for them in my closet again.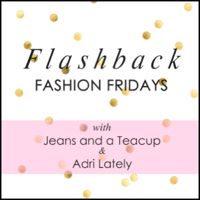 Adri and I would love for you to join us this week and link up your flashback fashions! You can include a link or photo in your post to an outfit from last year, month or even week! It's fun to see how our style choices change over the year.
Guidelines for Link Up:
2) Please link up a blog post and not your blog's homepage.
3) Use the button below to link back to the link up or include a link in your post.
Thanks!