Flashback Fashion Fridays Link Up #2 + 4th Fashion
What?! It's almost the 4th of July? Where has the time gone?
I'm in the country right now which means you'll probably be able to find an American flag somewhere in the vicinity. Which is perfect for when you are taking 4th of July inspired outfit pictures! I kept my look pretty basic with a red striped tee and drawstring navy skirt. The denim vest is just for fun!
I don't have any specific plans for the holiday weekend but I know it will involve A LOT of food. Today I'll be at a buffet in the morning and then Red Lobster at night. YUM! I hope you all have a great weekend!
Outfit Details:
ShoeMint Sandals
Now on to Flashback Fashion Fridays! I posted this outfit on July 4th, 2014 – almost one year ago! I have to say I still do like this outfit and I should wear it again sometime soon!
I'd love for you to join me and
Adri Lately
and link up your flashback posts! You can include a photo in your post like we did or just a link back to an outfit from last year, month or week!
Guidelines for Link Up:
2) Please link up a blog post and not your blog's homepage.
3) Use the button below to link back to the link up or include a link in your post.
Thanks!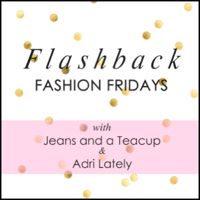 Linking Up:

Rachel the Hat, Fashion Should Be Fun, Forage Fashion