Flashback Fashion Fridays #8 + A Peach Jacket
I just can't stay away from neutrals. I know a lot of people prefer to wear brights in the summer but I'm not one of them. So when I saw this draped peach jacket I knew it would be perfect in my closet. I think it will also transition into fall perfectly. I can see myself wearing it with a lot of dark and jewel tone pieces in the fall.
Outfit Details:
Now on to Flashback Fashion Fridays! I wore this outfit last August when I was visiting family in Colorado. I had just bought these pants are wanted to wear them all the time. They are just so comfy! I actually still wear them a lot. Especially to work since I have to sit on the floor with kids all day. This rust colored linen tee is also a favorite!
Adri and I would love for you to join us this week and link up your flashback fashions! You can include a link or photo in your post to an outfit from last year, month or even week! It's fun to see how our style choices change over the year.
Guidelines for Link Up:
2) Please link up a blog post and not your blog's homepage.
3) Use the button below to link back to the link up or include a link in your post.
Thanks!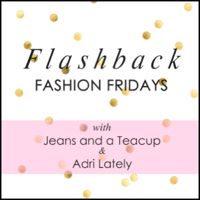 Linking Up:

Style Elixir, Rachel the Hat, Forage Fashion, Fashion Should Be Fun